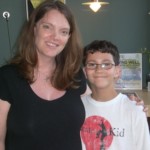 My path to the Morter Health Center started about 2 ½ years ago when my son who was 8 started having Petit Mal seizures. The 1st neurologist we saw told us we had to put him on medication.
Having known people with Grand Mal seizures, I knew the horrible side effects the medicine can give and how it doesn't always stop seizures. I brought up trying something natural. The neurologist said, "you want to try the Ketogenic Diet? Well if you want to watch your son pulling wall paper off the walls because he's starving, then go right ahead." We left and never went back.
We tried medication that left him defiant, aggressive, and if nothing else a zombie, it negatively affected his schooling, and life in general and it did not stop nor reduce his seizures.
After weaning him off of the medication, I sought out natural alternatives. Trying a Google search on "Holistic Practitioner" I only found three in a some what close distance to us. One that stuck out was the Morter Health Center. Seeing it was an hour and twenty minutes away, I wrote it down and put the paper away thinking there is no way we would be able to drive that distance.
About 6 months of trial and error with different vitamins, and the school at our door with threats to call Social Services, I miraculously found the paper I had tucked away many months ago, and decided to call. I was greeted on the phone by a very sweet, warm and inviting voice, she was so kind, something I wasn't used to. I told her I was, "looking for a Holistic Practitioner" and she told me I called the right place. She connected me with Dr. Katy Eakle (Morter).
I am so used to being judged for not having my son on clinical medication, and trying a natural path, that I felt like once again I was walking on thin ice, and after all, no one really wants to talk to you, not to mention help you at all if your son has seizures and is not on medicine. So Dr. Katy picks up and with her warm, perky, accent she asks me to tell her our story.
After an hour and a half of talking about the situation from beginning to then, she told me she would do what she could to help us, and that she really thought she could at the very least reduce the seizures. This was the only positive we had received in 2 ½ yrs.
First of all who talks on the phone to a doctor for an 1 ½ ? Her whole demeanor was that of assurance. I felt so relieved. The receptionist told me that our visit would be about 3 hours total. Who has a doctor visit that last 3 hours? I knew that this would be a through, in depth and detailed visit. I was ecstatic!! I have to nearly run my doctor down to just ask a question, and here we would be able to take our time, talk to her and she could get to see us, and know us.
Our first appointment, we had a consultation with Dr. Katy. In the room she asked us some questions about the seizures and our lives. She explained how the brain stores things that we don't even know we have in our memory, but they still can negatively affect us. She was simply amazing at explaining to our son on a child's level about what she was talking about. Not only did she do an awesome job explaining she also drew pictures of what she was explaining.
This not only helped my son, who understood everything she was talking about, but it also helped my husband and me as well!
It was like a whole different world, the time she took on us and patience she had helping us understand, and the kindness she showed our son. It was surreal. I have never experienced such devotion and sincerity from a professional before.
When we left, we left with hope, hope that Dr. Katy had given us, that yes he could be cured of the seizures. That's nothing we had felt before from anyone else. That hour and 20 minute drive was well worth even just the way we were treated by the all the staff & doctors.
When we first started going there in January 2011, my son was having about 10-15 seizures a day that lasted about 5-10 seconds, and he would fall most times and when he fell at school, they sent him home. January, and February he was sent home almost everyday.
Dr. Katy did a lot of adjustments, and gave my son exercises to do to reduce stress. She also changed his diet and our whole family is now eating healthier because of her educating us. She taught us how to eat right, and my children went from eating 1 vegetable a week, to eating vegetables at least once a day.
Before we ate a lot of processed foods, box meals, frozen pizzas. Now about 98% of our meals are fresh meats, fresh vegetables and a lot of brown rice. We no longer have any refined sugars in our home. No pop, cookies, gummies, snack cakes, ice cream. Lots of fresh fruit, and almond butter and hummus!! Our health has totally changed, we feel so much better!
March 2011, Dr. Katy, wanted to try my son on a Ketogenic Diet. It sounded so hard. We had taken all the Gluten out of his diet and we seen an improvement, his seizures seemed to lessen some.
Dr. Katy, she pulls no punches, she says what she means, but she doesn't say it mean. -filled cake.
My son has embraced this Ketogenic Diet, and as days go by, it gets easier and easier. It's just our way of living as a family now.
Since Dr. Katy started us on the diet, my sons seizures have been few and far between, and if and when we see one it is only a maximum 2-3 seconds.
Amazing the diet change, and adjustments are what has dramatically decreased the seizures….not medication.
Dr. Katy and her staff have been nothing but wonderful to us. Dr. Katy has been our light through the darkness. There is no way we can ever repay her for bringing us this far.
My husband and I would look forward to our weekly visit with Dr. Katy. The positive energy that she has is contagious. We would leave there with such a feeling of peace & learned a lot from her in a very short 5 months.
We are so saddened that she is moving. She is more than a doctor to us, she's a very dear, beloved friend.
My son simply adores her too. He so looks forward to her payment she demands of her patients before they leave, and that's a big hug.
She's one of a kind and I only wish there were more like her. I am thankful to at least gotten to know her for this short time, her imprint on our lives will never be forgotten.
As written by Elijah's Mom, Scheleta, Indiana